Company News
Saturday 14 February, 2004 |
---
3M Double Adhesive Magnets China Supplier
by AOMag | post a comment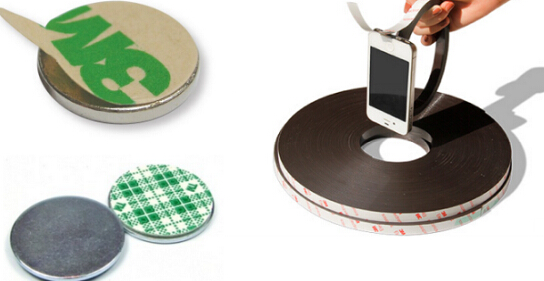 AOMag do produce 3M Double Adhesive Magnet too. 3M Double Adhesive Magnet contains two important elements: magnetic force and adhesive force.
It's extremely helpful when you need to use magnet on some non-metallic items.
Adhesive Magnet: 3M double adhesive and permanent magnet
Magnet material: Sintered Neodymium Magnet, N35 N38 N40 N42 etc.
Adhesive material: foam tape VHB4945, 467MP, 468MP etc.
Shape: disc, block, oval or based on design
Magnetized direction: in pairs or through by the same side (thickness or other)
Magnet coating: NiCuNi, Zn etc.
Application: packing, daily use items, electronic products
Normal size: D1x1mm D2x1.5mm  D3x1mm  D3x1.5mm  D3x2mm  D3x3mm  D4x1mm  D4x1.5mm  D4x2mm  D4x3mm  D4x4mm  D5x1mm  D5x1.5mm  D5x2mm  D5x3mm  D6x3mm  D6.5x2mm  D6.35x6.35mm  D7x1.5mm  D8x1.5mm  D8x2mm  D8x3mm  D9x2mm  D9.5x5mm  D10x1mm  D10x2mm  D12x1.5mm  D12x2mm  D13x1.5mm  D15x1.5mm  D15x2mm  D15x3mm
Please choose the size you need, or you can tell us what size and shape you need, AOMag will customize for you, email us.
---
---
---
---
---
News for Monday 18 August, 2003
---
View all news for Monday 18 August, 2003 on one page
---
---
---
Recent News
---
---
---