Company News
Wednesday 08 November, 2000 |
---
Bulk Disc Neodymium Magnets price China
by AOMag | post a comment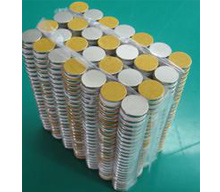 Bulk
Neodymium Magnets Price
China :
Dear AOMag, I am getting quotes from neodymium
magnet manufacturers
in China and I would like to get a FOB quote for bulk magnets from your company. Here is what I need:
Neodymium ring N48 or higher 12.7mm (outer diameter) X 6.35mm (inside diameter) X 3.2mm (thickness)
Neodymium disc N45 or higher 12.7mm (diameter) X 1.6mm (thickness)
Is the price of nickel, black nickel and black epoxy coating the same? Any advantage one over the other? What is your MOQ requirement and what is the price break point?
Also, I may consider using adhesive stickers on the disc magnets. What is the cost and what is the strongest adhesive sticker you use? Ring magnet will very frequently be attached and detached from the disc, so the adhesive sticker needs to be very strong. What is the cost for adding the adhesive sticker to the disc magnets?  
Permanent
Magnets Manfacturer
China - AOMag:
For the price of coating, Nickel coating costs less than black Ni and Black epoxy.
We do not have MOQ for conventional magnets.
Could you please specify the quantity of both types you need?
Neodymium Permanent
Custom Magnets
:
It really depends on the pricing. I would like to start with 2500 of the discs and 1250 of the rings to complete and get my product on the market, after which I will be ordering in batch of 2000 disc and 1000 rings or twice that depending on the success of the product.
Can you quote me the black nickel and black epoxy as well?
Permanent
Magnets Manfacturer
China - AOMag:
Please check the price as follows:
Material: Sintered Neodymium Iron Boron Magnets
Plating: NiCuNi
Magnetized through Axial
Size/Grade/Ex-works Shenzhen Price:
Ring, D12.7xd6.35x3.2mm / N48 / USD***/pc
Disc, D12.7x1.6mm / N48 / USD***/pc
---
---
---
---
---
News for Friday 23 June, 2000
---
View all news for Friday 23 June, 2000 on one page
---
---
---
Recent News
---
---
---